At HBOR's 18th International Conference on Export Promotion that took place in Šibenik, a number of topics were discussed that are of particular relevance for the Croatian economy, exporters and HBOR's operations. The topic that marked this year's conference was the introduction of the euro and its impact on the exports and the operations of our exporters. Also, a special focus was on the significance of interconnecting science and business and country branding for further development of our country.
1.3 percent on investment and 1.75 percent on working capital
HBOR's 18th International Conference on Export Promotion gathered almost 200 participants, among which numerous Croatian entrepreneurs, representatives of the Croatian National Bank, representatives of commercial banks and export banks from the European Union. In addition to exchanging experiences and discussing the latest trends in operations, interest rates as low as 1.3 percent were announced for financing exporters' investments and 1.75 percent for financing working capital under pre-export finance. HBOR also announced the launch of a new loan portfolio insurance programme for working capital intended for exporters.
Zdravko Marić: We are pleased with HBOR's growth rates and results
As an envoy of the Prime Minister of the Republic of Croatia, Mr Zdravko Marić, Deputy Prime Minister and Minister of Finance, participated in the Conference.
"Our export sector has successfully resisted various challenges. In this upward economic cycle, we need to take care of and strengthen our domestic components with an element of export orientation. That is why HBOR supports the economic operators that are active in the domestic and international markets. We are very pleased with HBOR's growth rates and results as well as with the low interest rates and the export insurance system presented. We are also looking forward to a whole range of new products and services," said Mr Zdravko Marić and stressed the necessity of increasing visibility and awareness of, as well as educating borrowers about, new products.
23 percent more funds for exporters
Ms Tamara Perko, President of HBOR's Management Board, focused on the significance of export promotion and stressed the importance of HBOR and HBOR's contribution to the Croatian economy.
"HBOR has achieved extraordinary results compared to the announced ones. Besides promoting the use of EU funds and developing new products, export promotion and exporters are among HBOR's main areas of business focus. Therefore, it gives us pleasure to say that, in 2018, exporters were granted more than HRK 5.6 billion in funds, a 23 percent increase on 2017. Therefore, we can say that HBOR has become an indispensable partner of Croatian exporters," pointed out Ms Tamara Perko.
Panel discussion – Impact of the introduction of the euro on exports and exporters
Beside Mr Zdravko Marić, Deputy Prime Minister and Minister of Finance, other participants in the panel discussion called: "Impact of the Introduction of the Euro on Exports and Exporters" were Ms Sandra Švaljek, Deputy Governor of the Croatian National Bank, Ms Dagmara Zawadzka, Managing Director at the Polish Development Bank, Mr Marko Jurčić, Advisor to the President of the Croatian Chamber of Economy, and Mr Sibil Svilan, President of the Management Board of the SID Bank.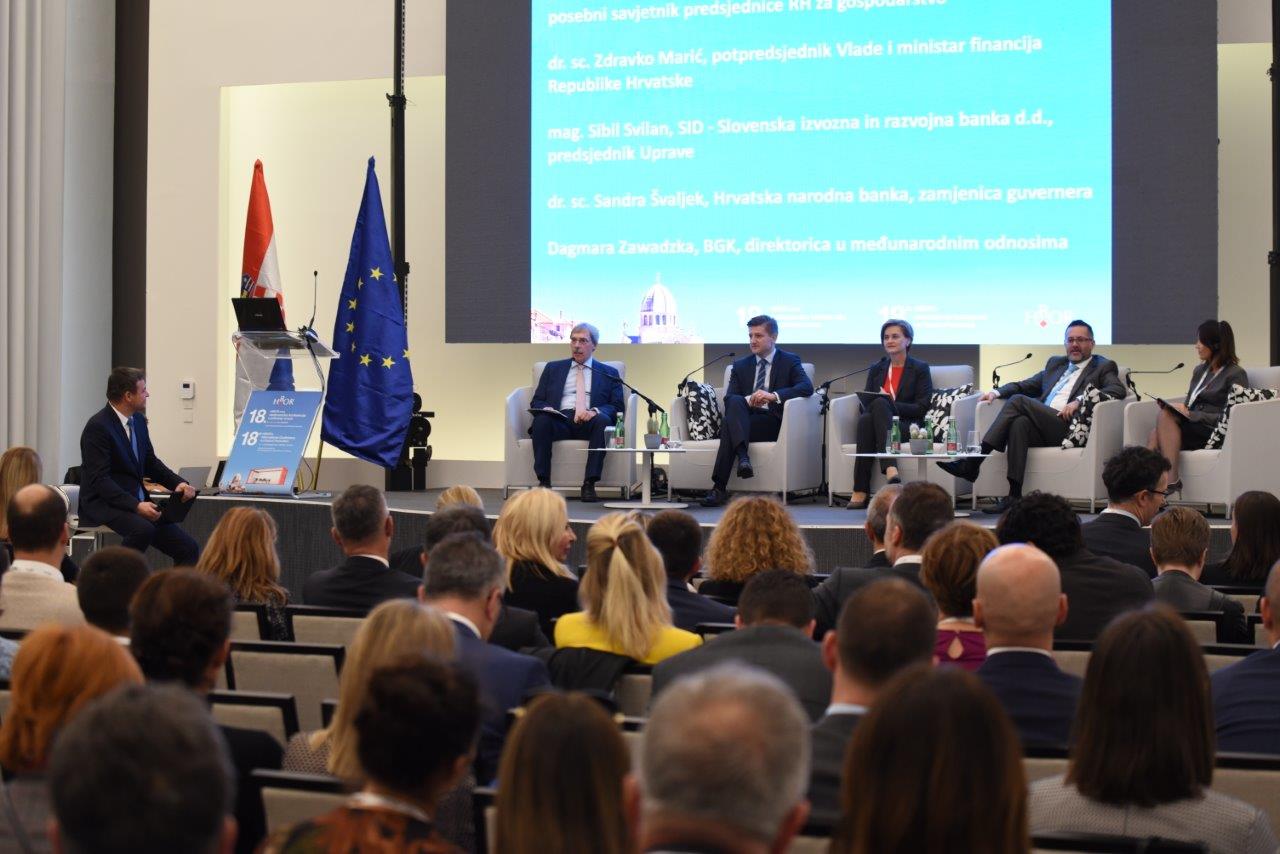 Significance of interconnecting science and business and country branding
Mr Đuro Horvat, Director of the company Tehnix d.o.o., and Ms Gordana Kovačević, Managing Director of the company Ericsson Nikola Tesla d.d., agreed in their discussions about interconnecting science and business that the cooperation with the universities enabled them to find, educate and keep young and promising people in Croatia.
The panel discussion was followed by the lecture called: "Country Branding – Why and How?" delivered by Prof.Dr.Sc. Božo Skoko. In his lecture, Mr Skoko stressed the importance of quality market research and knowledge for successful branding as well as the possible obstacles and challenges that might arise in the process. Furthermore, he pointed out that Croatian exporters had an exceptionally significant impact on the perception of our country and that the perception of the brand of Croatia as a country was especially important as it directly affected the positioning of our products and services beyond our country borders.